As this mod­u­lar soft­ware tai­lor-made suit is con­tin­u­ous­ly devel­op­ing, it was time to inform the long-time and sat­is­fied cus­tomers about the up-to-date and inno­v­a­tive progress.
After wel­com­ing the guests, the event start­ed with a pre­sen­ta­tion by our man­ag­ing direc­tor Chris­t­ian Fritz. He pre­sent­ed the diver­si­ty of our dif­fer­ent QAen­ter­prise busi­ness cus­tomers clear­ly and con­cise­ly, so that all atten­dees got a good impres­sion of the ver­sa­tile applic­a­bil­i­ty of our soft­ware. From project-dri­ven com­pa­nies to com­pa­nies work­ing with bills of mate­r­i­al and project BOMs to ware­hous­ing and ship­ping, some exam­ples were giv­en. A large focus was also on the inter­faces and syn­chro­niza­tion with exter­nal sys­tems, such as DAT­EV, data from pro­duc­tion facil­i­ties, time record­ing sys­tems, Out­look, teams or an online store, where we are pio­neers due to our know-how and flexibility.
An impor­tant and large part was the live demon­stra­tion of our new­ly devel­oped web-based appli­ca­tion and how we sup­port our cus­tomers along the way. Advan­tages and new func­tion­al­i­ties, such as eas­i­er han­dling, brows­er-based, more intu­itive and future-proof, were met with great inter­est and enthu­si­asm by the visitors.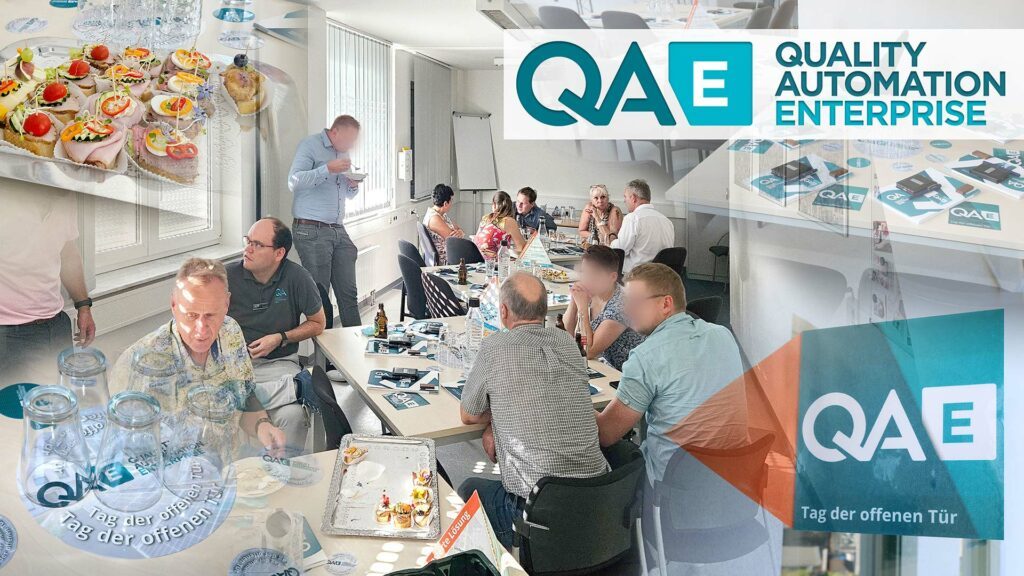 Dur­ing the event and dur­ing the breaks, all those present were amply sup­plied with canapés and cool drinks. After the end of the offi­cial part, there was a very live­ly exchange between all atten­dees over more drinks and sup­plied food. Our cus­tomers were able to exchange infor­ma­tion about the appli­ca­tion areas of QAen­ter­prise and gain a lot of added val­ue. All QAen­ter­prise devel­op­ers were also avail­able for ques­tions and exchange through­out the day.
We would like to thank the vis­i­tors for the live­ly inter­est and the pos­i­tive feedback.