For the first time in years, Qual­i­ty Automa­tion GmbH held an open house. The inten­tion behind the all-round suc­cess­ful event was to show the fam­i­lies and friends of all col­leagues the diver­si­ty of our ser­vice areas, the excit­ing test setups and the var­i­ous premis­es of the com­pa­ny building.
The under­ground park­ing garage and our gar­den formed the cen­ter of the action on that day. There was a QA infor­ma­tion booth and var­i­ous test mod­els of our elec­tri­cal design and our trainees. All guests were pro­vid­ed with plen­ty of food and drinks. The kids could get dressed up with face paint­ing or let off steam on the boun­cy castle.
Our trainees eager­ly and with much ded­i­ca­tion explained to the inter­est­ed vis­i­tors the basics of a plant con­trol sys­tem, the func­tion­ing of var­i­ous sen­sors or sup­port­ed those vis­i­tors who tried to wire com­po­nents in a con­trol cab­i­net themselves.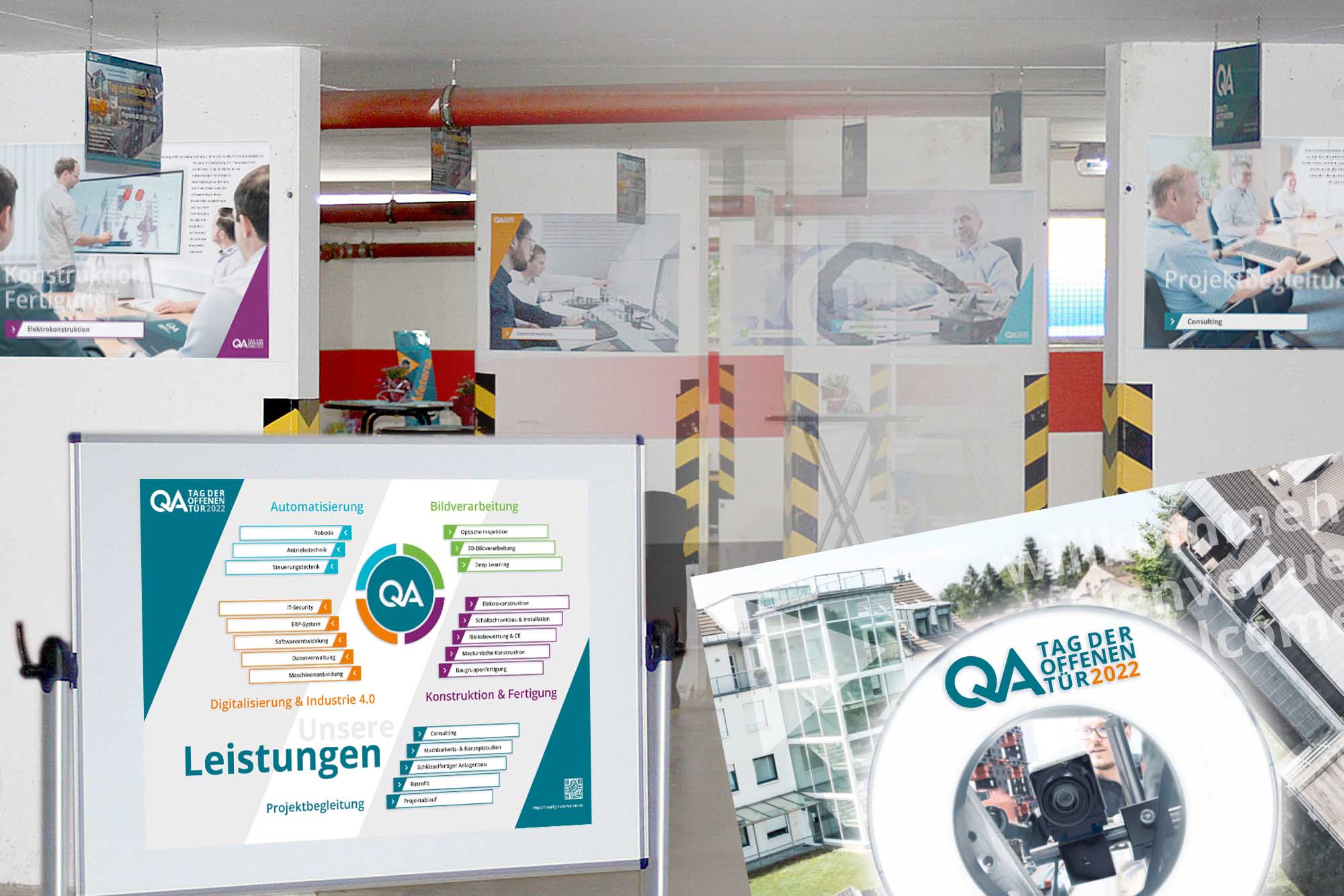 The vis­i­tors were guid­ed through our com­pa­ny build­ing in groups by our man­age­ment or their own rel­a­tives. Each depart­ment pre­sent­ed itself in a dif­fer­ent way and pre­sent­ed the respec­tive com­plex tasks in a very under­stand­able way. Live demon­stra­tions of dri­ves, robots and cam­era setups impressed not only fam­i­ly mem­bers and friends, but also some of our own col­leagues. Also pure soft­ware appli­ca­tions, such as the con­struc­tion of e‑plans, data man­age­ment in data­bas­es or our ERP sys­tem QAen­ter­prise could be illus­trat­ed by posters, videos and an engaged demon­stra­tion of the colleagues.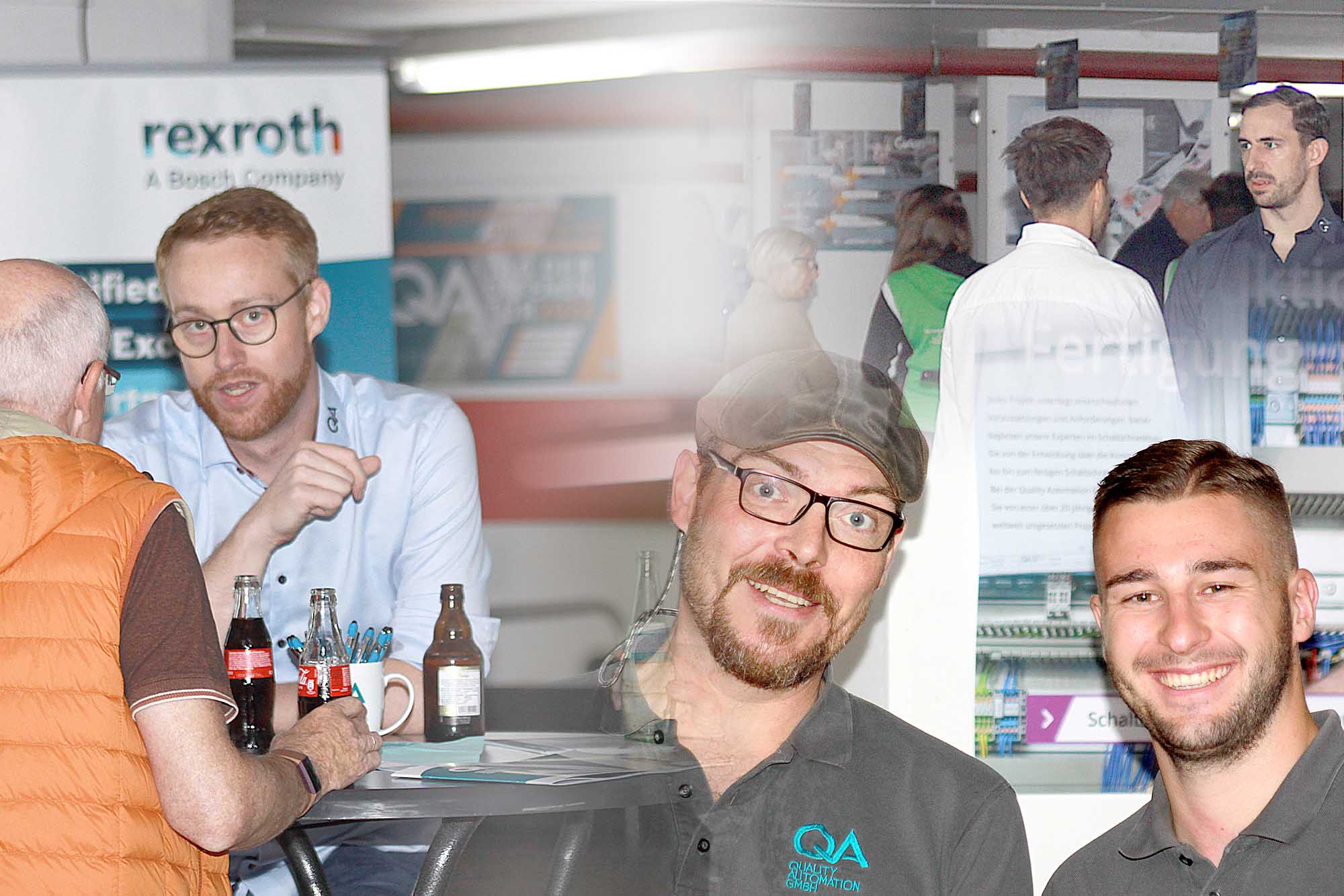 On the open day the focus was not only on the dif­fer­ent depart­ments of Qual­i­ty Automa­tion GmbH. A wide range of health ser­vices was accept­ed with plea­sure by many vis­i­tors. For exam­ple, BBmed­ica's Health Check mea­sured blood sug­ar and blood pres­sure, ana­lyzed vein func­tions and deter­mined the risk of stroke. BARMER's Body Check, on the oth­er hand, pro­vid­ed very reveal­ing infor­ma­tion on vis­cer­al fat per­cent­age, mus­cle mass and total body water.
The health pro­gram was round­ed off by a stand of the Wal­heim Health Cen­ter, which pro­vid­ed infor­ma­tion on train­ing and nutri­tion and pre­sent­ed its EMS train­ing pro­gram, which stim­u­lates the mus­cles by means of elec­tri­cal impuls­es, so-called electromyostimulation.
We would like to thank the numer­ous vis­i­tors for their keen inter­est and pos­i­tive feed­back. The day will remain in the mem­o­ry of the entire staff and all vis­i­tors for a long time.