ERP sys­tem and steel con­struc­tion at the high­est level
The com­pa­ny Müller & Sohn from Kall, in the Eifel region close to us, is already a long-stand­ing user of our cus­tomized ERP sys­tem QAen­ter­prise. As part of our close and good coop­er­a­tion, we have now suc­cess­ful­ly imple­ment­ed a dig­i­tal­iza­tion project in the man­u­fac­tur­ing work­shop. The new­ly devel­oped soft­ware works here inde­pen­dent­ly of the already exist­ing QAenterprise.
The inter­na­tion­al­ly active steel con­struc­tion spe­cial­ist Müller & Sohn devel­ops indi­vid­ual designs for its cus­tomers. The ser­vices range from sta­t­ic cal­cu­la­tions to on-time real­iza­tion and final accep­tance. Com­pa­nies from the food and phar­ma­ceu­ti­cal indus­tries as well as from gen­er­al plant con­struc­tion rely on the know-how and per­for­mance of the spe­cial­ized experts of the fifth-gen­er­a­tion fam­i­ly business.
Devel­op­ment of a new soft­ware solution
Before the dig­i­ti­za­tion real­ized by Qual­i­ty Automa­tion GmbH, all CAD draw­ings had to be print­ed out so that they could be worked with in the work­shop. This result­ed in increased costs, time and resources. The goal was to dig­i­tize this process and thus make it more effec­tive and modern.
Like QA Enter­prise, the dig­i­tal man­u­fac­tur­ing man­age­ment soft­ware is based on Microsoft Access and can be inte­grat­ed into the ERP sys­tem if desired. How­ev­er, the flex­i­ble stand­alone solu­tion that we have imple­ment­ed here is by no means dis­ad­van­ta­geous and inte­gra­tion is also pos­si­ble at a lat­er date at any time. The soft­ware devel­oped from scratch by Qual­i­ty Automa­tion GmbH has result­ed in a per­fect appli­ca­tion tai­lored to the cus­tomer's needs, which can be extend­ed and adapt­ed at any time if required.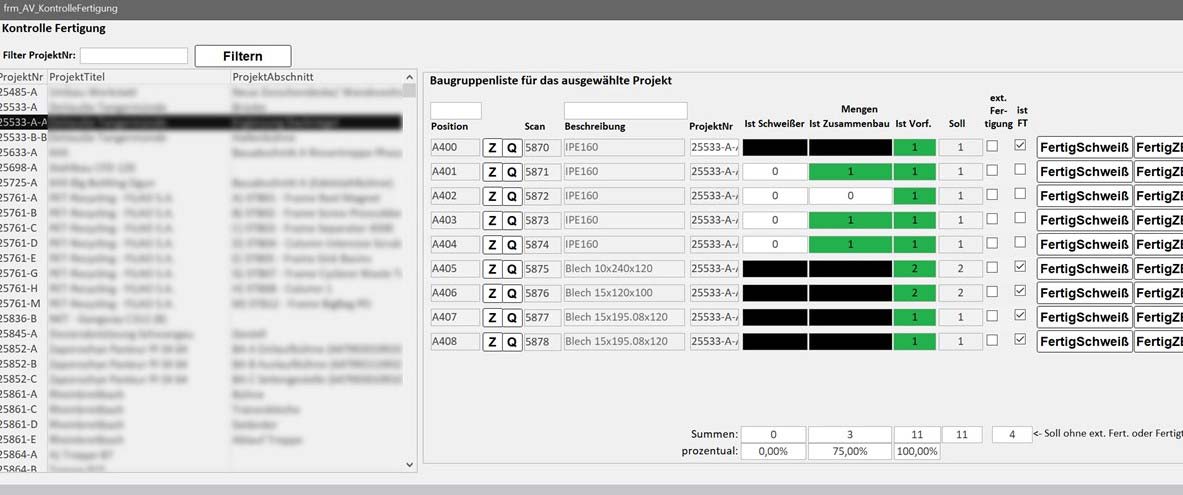 Trace­abil­i­ty through dig­i­ti­za­tion of production
With the new man­u­fac­tur­ing man­age­ment soft­ware, a QR code is gen­er­at­ed at the begin­ning of the work process and attached to the respec­tive com­po­nent. In the work­shop, this QR code can be read with a hand-held scan­ner and the CAD draw­ing appears on an attached screen. After com­ple­tion, this must be con­firmed in the soft­ware and the con­struc­tion of a new prod­uct can begin. Con­fir­ma­tion from man­u­fac­tur­ing has the advan­tage that the man­u­fac­tur­ing sta­tus of each com­po­nent, across the var­i­ous process steps, can now be tracked and record­ed live.
The new man­u­fac­tur­ing man­age­ment soft­ware includes a sys­tem con­trol with user and rights man­age­ment. This allows dif­fer­ent users to be grant­ed dif­fer­ent rights. As already described, dig­i­tal QR codes are gen­er­at­ed and print­ed from the soft­ware. In clear­ly arranged forms, the man­u­fac­tur­ing sta­tus of the com­po­nents is dis­played dur­ing the entire pro­duc­tion and can also be man­aged from there.
A wide range of sta­tis­tics on assem­blies, projects and any prod­uct char­ac­ter­is­tics can be dis­played and ana­lyzed over a desired peri­od of time to con­tin­u­ous­ly opti­mize production.
The employ­ees in the work­shop also have the option to enter com­ments on the pro­duc­tion of the com­po­nent. In this way, spe­cial fea­tures or prob­lems can be record­ed and traced over a long peri­od of time. Every night, a report is auto­mat­i­cal­ly stored on the in-house serv­er for doc­u­men­ta­tion pur­pos­es. This report, with freely defin­able con­tent, con­tributes to the trace­abil­i­ty of pro­duc­tion and thus to com­pli­ance with cer­tain standards.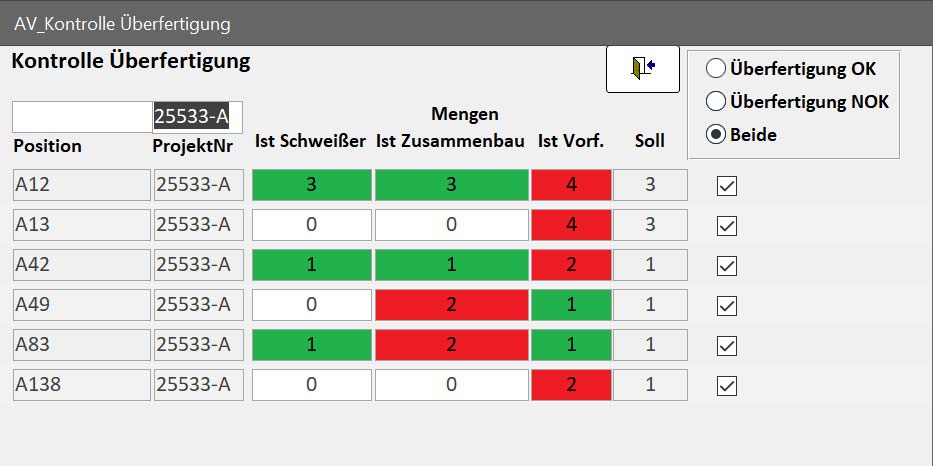 Exten­sions of the application
A new exten­sion is already in the pipeline: In the future, the man­age­ment of ship­ping and inven­to­ry will also be reg­u­lat­ed via the new dig­i­tal pro­duc­tion man­age­ment. We look for­ward to the suc­cess­ful imple­men­ta­tion of this new challenge.