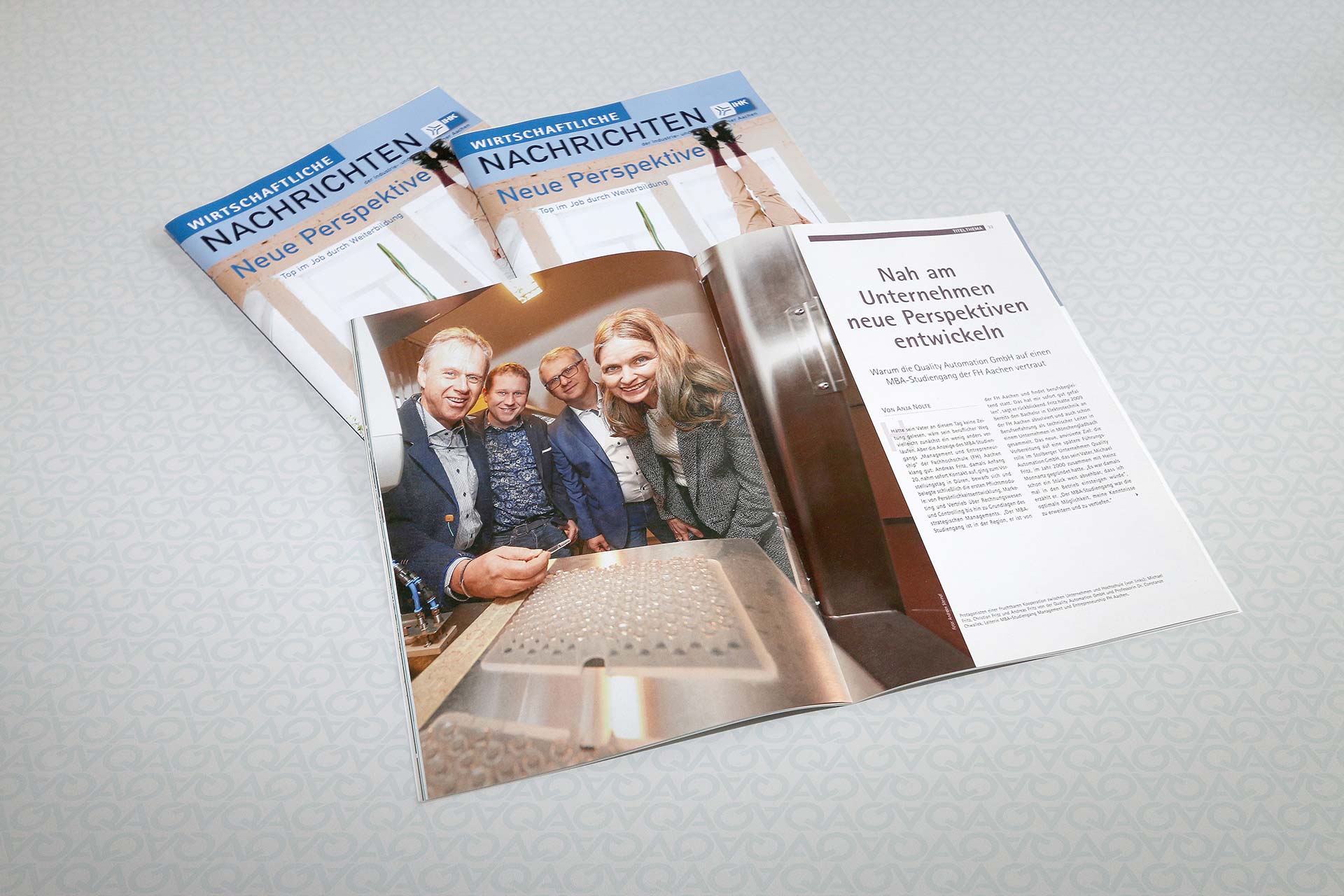 In a high­ly inter­est­ing arti­cle in the Wirtschaftlichen Nachricht­en of the Cham­ber of Indus­try and Com­merce Aachen, Qual­i­ty Automa­tion GmbH reports about the great coop­er­a­tion with the Uni­ver­si­ty of Applied Sci­ences Aachen and about the region­al study course Man­age­ment and Entre­pre­neur­ship.
Three of our employ­ees have already com­plet­ed the part-time, 18-month MBA pro­gram. Two of them are now part of the extend­ed man­age­ment team, which has a total of five mem­bers. Among them is our Man­ag­ing Direc­tor Andreas Fritz, who suc­cess­ful­ly com­plet­ed the MBA back in 2011. "For us as a com­pa­ny, it is impor­tant that with the MBA pro­gram we have a region­al part-time offer with which we can build up inter­est­ed peo­ple from our own ranks for key posi­tions," explains Michael Fritz.
The valu­able con­tacts that are already estab­lished dur­ing the study pro­gram pro­vide the basis for many busi­ness and cus­tomer rela­tion­ships of Qual­i­ty Automa­tion GmbH far beyond this today. "The par­tic­i­pants build impor­tant net­works here that last long beyond their stud­ies," affirms Pro­fes­sor Dr. Johannes Gartzen, co-ini­tia­tor of the study pro­gram and Chair­man of the MBA Coor­di­nat­ing Council.
As a medi­um-sized com­pa­ny in the Aachen region, we great­ly val­ue our good rela­tions with the uni­ver­si­ties of applied sci­ences and look for­ward to fur­ther inten­si­fy­ing this coop­er­a­tion. As ear­ly as next month, we will be offer­ing a new mas­ter's stu­dent and a bach­e­lor's stu­dent from Aachen Uni­ver­si­ty of Applied Sci­ences an oper­a­tional frame­work in our com­pa­ny for the prepa­ra­tion of their final theses.
Here you can access the online edi­tion of the Wirtschaftliche Nachricht­en of the IHK Aachen. You will find the unabridged arti­cle start­ing on page 33.